BIG IDEA
---
What could have been an exercise in standard road maintenance and repair became a showcase streetscape project when the City of Campbell recognized an opportunity to reclaim a bleak, over-sized stretch of roadway for stormwater treatment and for a more equitable distribution of right of way that serves all modes of transportation.
THE STORY
---
CALA partnered with city staff to help develop a new creative vision for the roadway. With the city's buy-in, community support and the assistance of grant funding that CALA helped to secure, the team was able to reach deep into the "Complete Streets" toolbox to develop an award-winning design that treats stormwater runoff, enhances access to bus service, and is welcoming to bicyclists and pedestrians.
To begin, the roadway was reduced and replaced using full depth reclamation, which re-used more than 80% of the existing asphalt and road base, at half the cost of conventional asphalt removal and replacement. Dedicated bicycle lanes invite hobby cyclists and commuters to enjoy the street, and shortened pedestrian crossings create a safer connection between new plazas at street corners.
Thanks to a fortuitous geotechnical report, water runs off of this reduced roadbed and into broad bioswales, where in the 2015-2016 rainy season, the San Francisco Estuary Institute recorded a 100% infiltration rate. This runoff bypasses the stormwater system and contributes directly to groundwater recharge. These bioswales also buffer the sidewalk from traffic, creating an enjoyable pedestrian experience colored by a rich palette of California native and drought tolerant plant materials.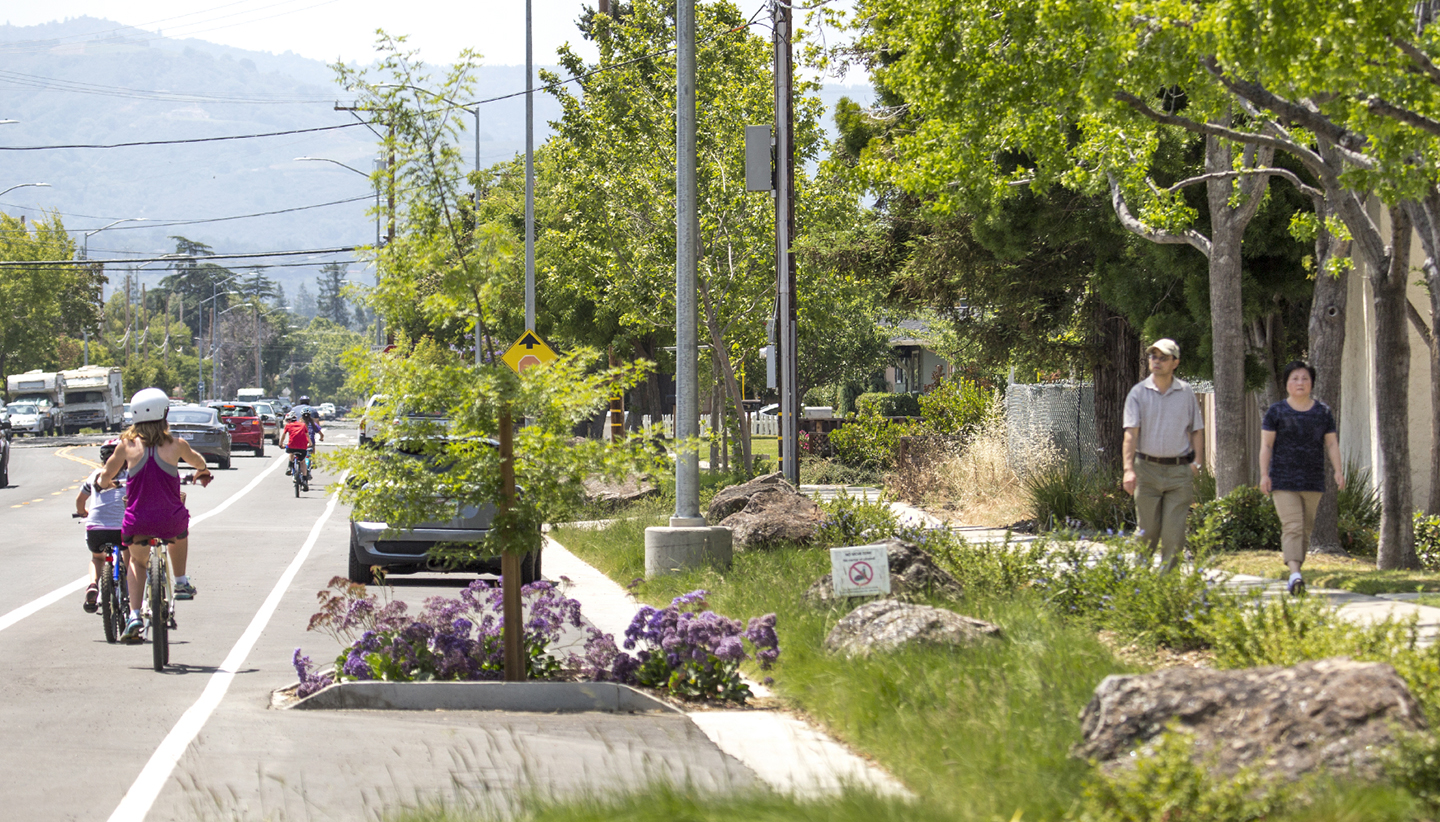 THE DETAILS
---
CALA used variety of graphic techniques, including visual simulations, to support grant writing efforts and to guide a successful public outreach process that re-imagined the collector with bike facilities, bulb-outs, new transit stops, sidewalk improvements, educational signage, reduced traffic lanes, and a significant green infrastructure component that helped to earn Bay Friendly and Greenroads certifications.
Awards

SCVURPPP Site Design for Stormwater Pollution Prevention Award

Certification

Bay Friendly
Greenroads Silver (first Silver in California)

Grants

Proposition 84, Integrated Regional Water Management Grant Program
Valley Transportation Authority: Community Design and Transportation Program


Press

Landscape Specifier News, January, 2017

Services

Conceptual Design
Public Outreach
Visual Simulation
Grant Assistance
Construction Documentation