BIG IDEA
---
Almost fifty years after its addition to the State Parks system, California's oldest land trust sought an experienced team to plan a new visitors' entrance to the iconic Castle Rock State Park. Sempervirens Fund envisioned a new gateway as an opportunity to engage visitors with information on the area's natural and cultural history, to inspire continued landscape preservation, and to generate revenue that would ensure the park's financial sustainability.
THE STORY
---
Public enjoyment of the landscape at Castle Rock State Park began as early as 1908, when a private land owner protected a 60-acre parcel from logging, and opened the land to visitors. Now more than 5,000 acres, Castle Rock is a popular destination known for its sculpted sandstone formations, redwood forests, waterfalls, and sweeping views.
Since its addition to the State Park System in 1968, the popularity of Castle Rock has continued to grow, but the main entrance to the park has remained rustic and informal, with most visitors opting to park along the road for free.
Recognizing a need for updated facilities, Sempervirens Fund purchased an adjacent parcel with the intent of constructing a new parking area, visitor center and amenities which could then be incorporated into the overall park. Shortly after selecting CALA to lead this effort, Castle Rock was added to a list of parks slated for closure due to statewide budget cuts. This threat gave the project additional purpose and urgency: improvements would have to not only be environmentally sensitive, but financially sustainable as well.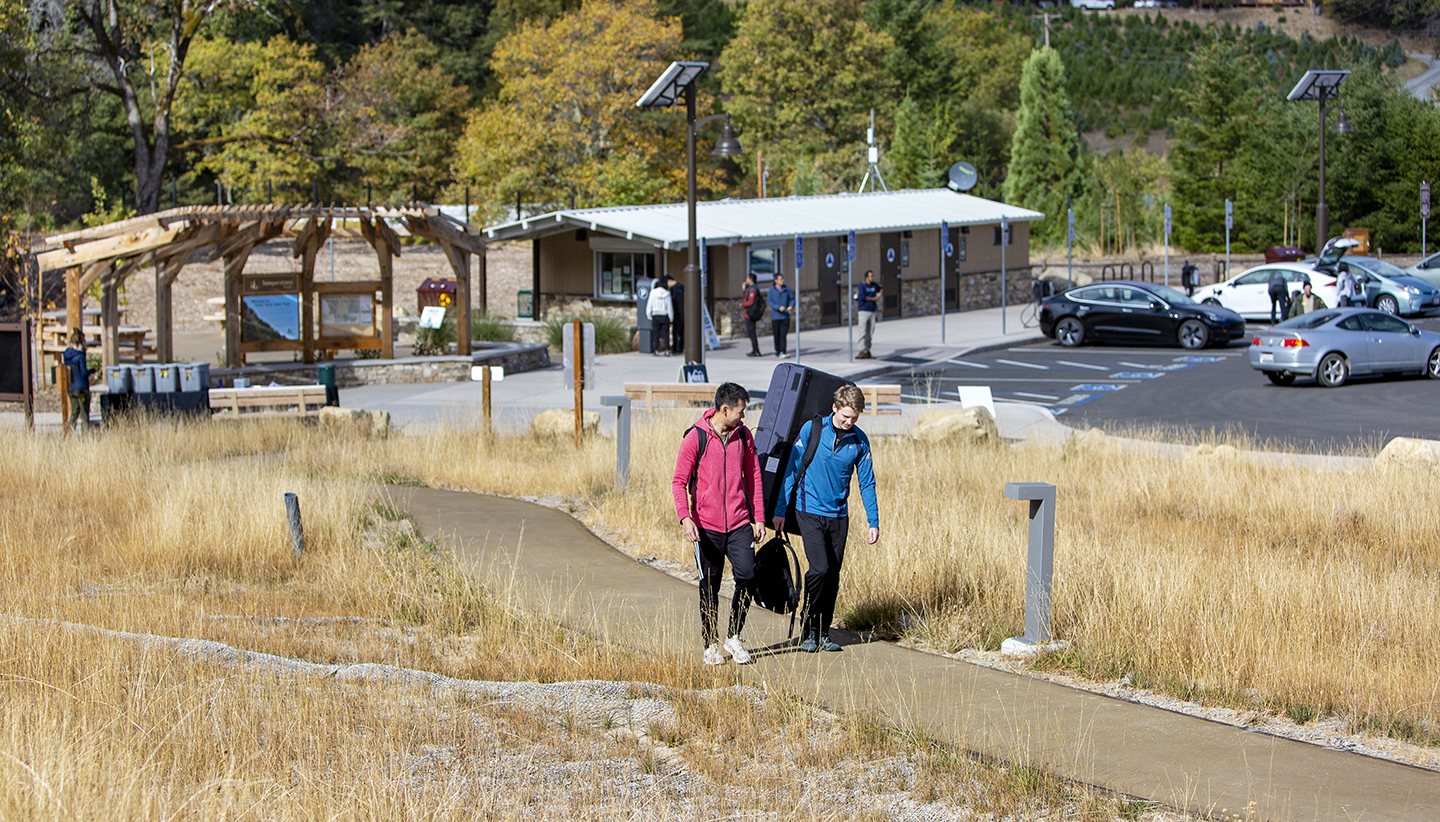 THE DETAILS
---
From conceptual design through construction, CALA guided a team of stakeholders to create a gateway to the park that would enhance the visitor experience.
Sensitive to the area's rural character and to the spirit of preservation that inspired the project, the team looked to the topography and natural context to locate a curvilinear parking area with permeable pavement, flush toilets, interpretive displays, solar lighting, and trail connections to adjacent preserves. Formerly a Christmas tree farm, existing trees were selectively thinned and augmented with native species found in the area's oak woodlands. A small amphitheater takes advantage of the sloped terrain, and can be rented for events.
Future facilities will include park headquarters and a visitor center that can also serve as an event space.
Project

Castle Rock State Park

Services

Arborist services
Conceptual Design
Design Development
Stakeholder Outreach
Environmental Documentation
Construction Documents
Bidding Assistance
Construction Support